Butler's most prestigious award, the Hubbard Award of Excellence, is a $15,000 scholarship awarded to one graduating sophomore every spring. Butler alumnus R.D. Hubbard and his wife Joan Dale Hubbard established the award in 1985.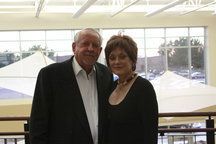 About R.D. Hubbard
A native of 

Smith Center, Kansas

, Mr. Hubbard was born the youngest of eight children to hardworking parents who owned an icehouse. Turning his attention to education, Mr. Hubbard was an excellent athlete and earned a scholarship to

Butler County Community College 

where he received an associate degree. From there, he was a teacher and a basketball coach until embracing his entrepreneurial spirit in 1959 when he became a glass salesman. Working for Safelite, Mr. Hubbard rose to become general manager and ultimately president, a role in which he owned 20 percent of the company. By 1978, Mr. Hubbard was ready to strike out on his own, leaving Safelite and forming AFG Industries, Inc. In just a decade, he built AFG Industries, Inc. into a Fortune 500 company. Turning his attention to real estate, Mr. Hubbard helped to establish BigHorn Development, an exclusive residential development and private golf club in 

California 

in 1990. Six years later, Mr. Hubbard spearheaded the acquisition of adjoining land for a second 18-hole golf course. Mr. Hubbard passed away in April 2020.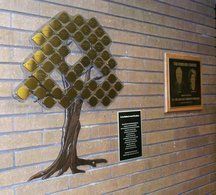 History of the Award
In 1985, Mr. Hubbard dedicated a scholarship fund to recognize and encourage excellence at Butler. Mr. Hubbard and his wife, Joan Dale, have devoted many resources to the support of Butler students and facilities. The Hubbard Center, Hubbard Champions Training Center, Hubbard Welcome Center, and Hubbard Award of Excellence are but a few of the many gifts they have provided. Through the Hubbard Foundation, nearly $2.5 million has been donated to our college. 
---
Recipients
2023 - Reagan Heimgartner
2022 - Sophia Dawson
2021 - Janet Busenitz
2020 - Alanis Balza
2019 - Claudia Hess
2018 - Kaylee Farmer
2017 - Olivia Jacoby
2016 - Amy Winter
2015 - Miquel Swann
2014 - Susan Harris
2013 - Ines Fomaga Tsotezo
2012 - Brett Moriarty
2011 - Morgan Meisenheimer
2010 - Miranda Smith Vancil
2009 - Lynsee Shaffer
2008 - Wesley Nyberg
2007 - Daniel White
2006 - Hannah Hendricks
2005 - Crystal Young Blin

2003 - Tyler Norvell
2003 - Angela Royse Murphy
2002 - Lauren Allen
2001 - Wendy Lynn
2000 - Tammy Lewis Ghormley
1999 - Matthew Spangler
1998 - Janet Johnson
1997 - Heidi Johnson Perez
1996 - Ann Patton
1995 - Elizabeth Claassen
1994 - Kevin Schwemmer
1993 - Darlene Lefert Davis
1992 - Edward Zimmerman
1991 - Michael Norstrom
1990 - Brent Hill
1989 - Burton Tredway
1988 - Bryon Bigham
1987 - Angelia Perkins
1986 - Jana Gaddie Marstall
1985 - Lale Capps