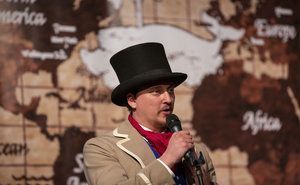 (Photo, right) Alumnus Austin Clift ('10) emcees the 23rd Butler Benefit Auction.
Annual fundraising auction raises $245,000 for Foundation growth, scholarships.
Nearly 325 guests attended Butler Community College Foundation's 23rd Butler Benefit Auction. The evening's theme, "Around the World in 80 Days," lent a fun and festive air to the annual fundraising event.
Lance and Lisa Lechtenberg served as honorary chairs for the event. Lance, an Edward Jones advisor, served on the Foundation Board of Directors for six years and was elected to the College's Board of Trustees in 2019. Lisa currently serves as the Head Volleyball Coach at Butler.
"Through these positions we see firsthand the impact Foundation scholarships have on a student," Lisa and Lance said in their message to attendees. "We believe in the value of an affordable education to help prepare students to become productive members of our community."
A special feature highlighted Butler's renowned culinary arts and hospitality management programs, led by instructors Chef John Michael and Alexis Michael, for the second year in a row. Guests visited "locations" based on the event to taste hors d'oeuvres prepared and served by culinary arts' Garde Manger classes. Table displays and help with service was provided by hospitality management's Event Planning classes.
"We are so fortunate to have these incredibly talented students and to have this opportunity to showcase their talent to donors," said Mary Moon, executive director of community advancement and Butler Benefit Auction event director. "Student involvement sets our event apart, making it especially enjoyable for guests who come to support the college."
Total funds raised topped out at $245,000. The evening featured silent and live auctions, a buy-in dinner party at President Kim Krull's home, and a golden ticket drawing. With an ending bid of $9,500, the highest-selling item of the night was a live auction item that also features the culinary arts program, an Extraordinary Culinary Arts Dinner hosted by Scott and Betsy Redler and Guy and Beth Bower.
The second-highest selling item was a package that includes four Kansas City Chiefs tickets and a parking pass. Selling for $7,000, the item was donated to the auction by Butler alumna Angela Hurt ('95), CEO of Veracity Consulting in Kansas City.
Kyler Vernon, a sophomore agriculture student from California, spoke to the attendees about how important Butler has been in his collegiate journey so far and how vital the familial atmosphere of Butler and the agriculture program is.
"Over the past several months the culture and community here have turned El Dorado into not just a place where I go to school, but the place that I'm more than proud to call home," Vernon said. "On behalf of myself, my teammates, and all the students, we are grateful for your investment into our futures."
Along with the culinary arts and hospitality management students, one dozen livestock judging students assisted throughout the event – from selling drawing tickets to working during the live auction. Theatre students assisted Mittlestadt Props & Design, owned by Butler alumnus Tom Mittlestadt, with décor and set up. The Butler Grizzlies volleyball team helped Great Western Dining serve dinner.
Butler alumnus Austin Clift ('10) emceed for the evening. As a student at Butler, Clift was a member of the Headliners show choir and a Clifford W. Stone Performing Arts Scholarship recipient. Upon earning his associate degree in communications, he transferred to Wichita State University and earned a Bachelor of Arts in electronic media. After working as a multi-media journalist, sports anchor, and reporter for KAKE News, Clift now teaches journalism at East High School in Wichita.
Top sponsors for the evening were:  HollyFrontier, Bank of America, BG Products, Commerce Bank, IMA, Professional Engineering Consultants, BKD, and Premier Food Service.