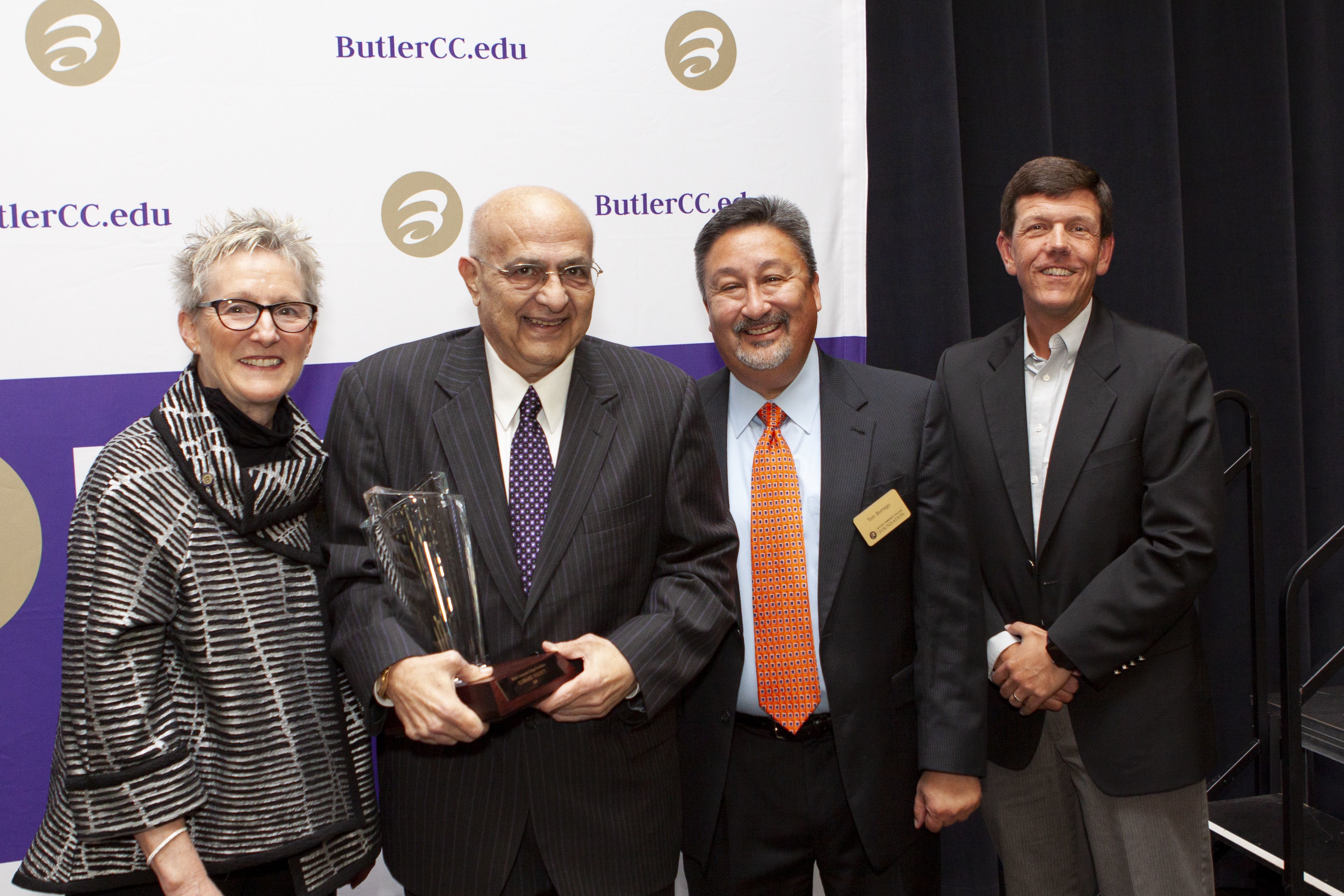 Donors were recognized for giving and service at the President's Donor Dinner held on Oct. 3 at Butler Community College. The event is held annually to show appreciation to donors who have reached a new giving level based on their prior fiscal year giving.
Butler's President Kim Krull, Ph.D., began the evening by introducing 2019 Hubbard Award of Excellence winner Claudia Hess. Hess was given the honor at commencement in May; a $15,000 transfer scholarship from the Foundation.
"Butler goes beyond just getting an education," Hess said. "It changed my thinking from trying to survive college to trying to achieve new skill sets and successfully solve new problems every day."
Hess was a student athlete on the volleyball team and worked as a peer tutor and resident assistant during her two years at Butler.
"To an outsider it looked like I was setting myself up for defeat," Hess said. "But once you build a strong community, you have people to turn to when you are not as strong. Butler gave me that."
Athletic Director Todd Carter and Dr. Larry Abraham awarded the Dr. Larry and Judy Abraham Grizzlybacker of the Year Award to Bill and Teri Rinkenbaugh of Augusta, Kan.
President Krull, Tom Borrego, executive director of the Foundation, and Forrest Rhodes, Foundation Board of Directors President, led the recognition portion of the evening.
Foundation Award for Distinguished Service to Butler Community College
Dr. Greg Joyce – El Dorado, Kan.
Seventy donors were recognized for reaching a new annual giving level, ranging from $500+ to $5,000+. Giving totals are calculated based on the prior fiscal year. Lifetime giving recognition accounts for all donations from a donor since the time they first began giving to the college. These donors are recognized starting at the $10,000 level. Giving levels range from $10,000 to $1 million though there are not donors recognized at every level annually.
Diamond Society ($10,000+)
BlueCross BlueShield of Kansas Foundation – Topeka, Kan.
Keith and Dona Darlington – San Diego, Ca.
Jim and Rachelle Depew – Wichita, Kan.
El Dorado Building Systems, Inc. – El Dorado, Kan.
Sue Erikson – El Dorado, Kan.
Keith and Rina Frye – El Dorado, Kan.
Jim and Sally Hargrove – El Dorado, Kan.
Michael and Teri Monteferrante – Andover, Kan.
Jeremy and Averie Nelson – Augusta, Kan.
Jason and Dr. Jessica Ohman – Andover, Kan.
Rosemary R. Gfeller Estate – El Dorado, Kan.
Trustee Society – ($50,000+)
Anonymous
Bud Bailey Estate – El Dorado, Kan.
Bank of America Foundation – Wilmington, Del.
Betty M. Carlson Estate – El Dorado, Kan.
Betty and Clyde Hiebert Estate – El Dorado, Kan.
Kim Krull – El Dorado, Kan.
Bob and Becky Minard – Leon, Kan.
Doug and Barb Voth – Edmond, Okla.
Cornerstone Society – ($100,000+)
Greg and Helen Joyce – El Dorado, Kan.
Alan and Nicki Mulally – Mercer Island, Wa.
Joe Sundgren Family – El Dorado, Kan.
Legacy Society ($500,000+)
James and Catherine Buck Charitable Trust – Wichita, Kan.
Hubbard Society ($1,000,000+)
Dr. Larry Abraham – El Dorado, Kan.
Sponsors for the event were Bank of America, Commerce Bank, Gravity::Works Architecture, ICI, and INTRUST Bank.